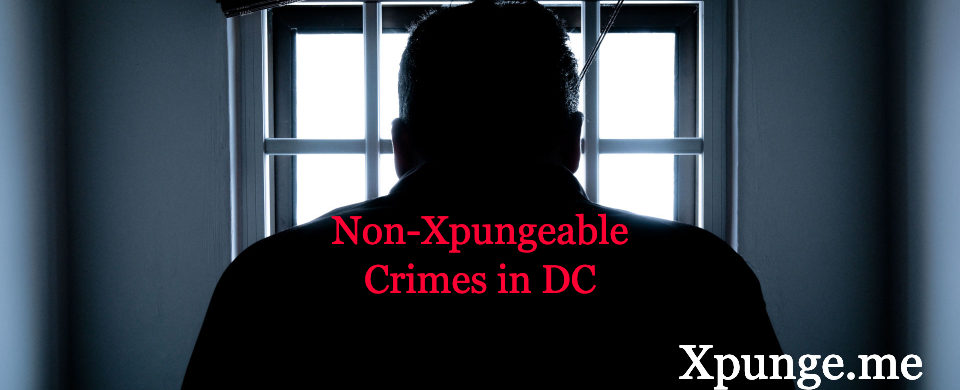 List of Non-expungeable crimes in DC – D.C. Code § 16–801(7-9)
Non-expungeable Felonies
The only felony that qualifies for expungement in DC is failure to appear
Non-expungeable Misdemeanors
The DC Code explains what misdemeanors qualify for expungement in the negative, meaning if your offense is not enumarated in the list below, then it most likely qualifies for expungement.
Interpersonal violence as defined in § 16 1001(6)(B), intimate partner violence as defined in § 16 1001(7), and intrafamily violence as defined in § 16 1001(9).
Driving while intoxicated, driving under the influence, and operating while impaired.
A misdemeanor offense for which sex offender registration is required, whether or not the registration period has expired.
Criminal abuse of a vulnerable adult.
Interfering with access to a medical facility.
Possession of a pistol by a convicted felon
Failure to report child abuse.
Refusal or neglect of guardian to provide for child under 14 years of age.
Disorderly conduct (peeping tom).
Misdemeanor sexual abuse.
Violating the Sex Offender Registration Act.
Violating child labor laws.
Election/Petition fraud
Public assistance fraud.
Trademark counterfeiting
Attempted trademark counterfeiting.
Fraud in the second degree.
Attempted fraud.
Credit card fraud.
Attempted credit card fraud.
Misdemeanor insurance fraud.
Attempted insurance fraud.
Telephone fraud.
Attempted telephone fraud.
Identity theft, second degree.
Attempted identify theft.
Fraudulent statements or failure to make statements to employee.
Fraudulent withholding information or failure to supply information to employer.
Fraud and false statements.
False statement/dealer certificate.
False information/registration.
No school bus driver's license.
False statement on Department of Motor Vehicles document.
No permit – 2nd or greater offense.
Altered title.
Altered registration.
No commercial driver's license.
A violation of building and housing code regulations.
A violation of the Public Utility Commission regulations.
Attempt or conspiracy to commit any of the foregoing offenses
Xpunge Me! DC Criminal Record Expungement Evaluation
Need help verifying whether or not your offense is expungeable? Contact Brian Pendergraft of Xpunge Me via text 301-200-0777 or email [email protected] to schedule and he will evaluate your case.